Through my eyes as an artist…

Creativity and art is ingrained in me.  It is interwoven in my soul. It is who I am.
I was born an artist and now live everyday surrounding myself with creativity in one form or another.
My art has become my life and I live each day with a feeling of passion and gratitude.
My largest form of inspiration is nature. Growing up in Colorado I was inspired by being at the lake and in the mountains. Now living in the San Diego area, the beach and ocean move my soul.
I have always been intrigued by the bold colors painted in the sky at sunset. I treasure that brief moment when the sun sets, and casts a deep, bold glow along the landscape.   This is my favorite thing to paint.
Spiritually I find being in nature to be grounding and centering, which I need not only as an artist, but also as a human being!
Everyone needs to escape sometimes.  We need a place where we can be at peace.  Where we can heal.  Where the troubles of the world can't touch us, and our soul can rest.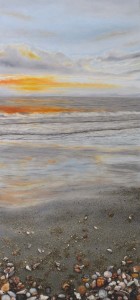 Here in Southern California, for myself and many people, it is the beach. This is where I often find myself.  I walk on the beach, collecting shells or simply sitting and watching a captivating sunset.  I find a quiet place in the warm sand, and watch the waves crash endlessly on to the shore.  The cool ocean breezes and smells bring a sense of calm and peace. It has become such a fundamental part of my life that I can't imagine living any where that separates me from the ocean for long.
When creating my paintings, I combine my love of the worldly landscapes we experience here on earth with my imagination, creating dream like scenes that then present themselves onto the canvas. My works are at a grand intersection between dream, reality, and the ancient bounty of the earth.  The semi-precious stones I use speak to me in a very real way, and my painting manifests around them to create a seamless experience that is both realistic and fantasy. Sometimes I'll have one thing in mind to paint and something just takes over and comes through me and onto the canvas.
As a mixed media artist, I want my paintings to have a sense of depth and wonderment when you view them, just like I feel when I am in nature. When you look at them, I want you to stop for a minute and allow the physical world to not exist, and get caught up into that timeless moment. I want you to allow yourself to really feel what you are experiencing from the semi precious stones and the painting itself.
More than just looking beautiful, I feel the energy and properties of the semi precious stones. I think people who view my work will either consciously or subconsciously feel the same energy. This is part of what pulls people into my work.
I want to create paintings that overwhelm your senses and brighten the area you put it in with the energy of the semi precious stones and emotions you feel when viewing that piece.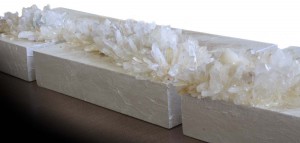 I love incorporating the Semi Precious Stones into my work because they give my paintings another layer of depth and dimension by adding 3D elements to a 2D surface.
I have found that most people have semi precious stones in their homes, usually sitting on a shelf. I bring that to the next level and incorporate hundreds of Semi Precious Stones in one painting.
I want to bring a sense of grand opulence into art in bold and profound ways. My works are different than anything you have seen with art and or with the Semi Precious Stones themselves.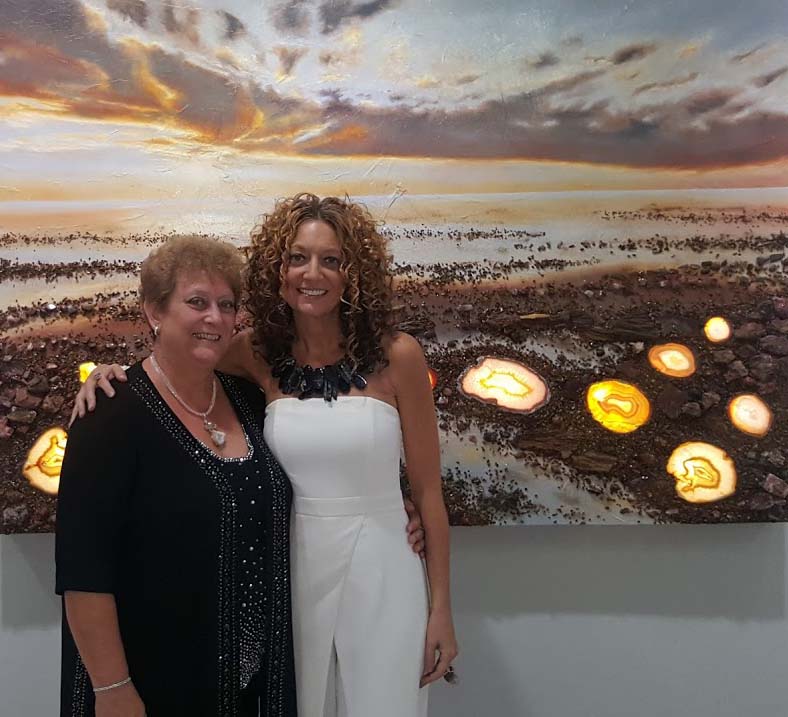 My mom introduced me to semi precious stones, and was the first one to encourage me to incorporate them into my art. She creates jewelry and began teaching me the stones and taking me to the gem, jewelry and mineral shows.
I created my first painting with one piece of agate and now use hundreds of specimens in my paintings.
My mom is now my partner in collecting the stones that I use in my paintings. We have been fortunate to work with many collectors and vendors from all around the world sourcing my stones that I use in my work. We meet them at the large gem and mineral shows throughout the country.
We have also mined and do enjoy finding them ourselves, but I'd rather paint and need so many that I have found to leave that mostly to the professional collectors. It is a wonderful partnership! I've been so fortunate to meet some amazing people among the gem and mineral communities.
This is what makes my work so unique and special.  There is so much wonderful energy behind each piece from the people and stones themselves.
I want people to be able to experience my paintings at a much more profound level.  Instead of standing behind a velvet rope, admiring from a distance, I want people to be able to touch and experience my works.  I want them to feel the energy that pulsates from the semi-precious stones and to be able to escape and heal without ever leaving the comfort of their own home.
I hope you will feel all the profound energy of my art, and bring the beauty of nature into your home.
I hope you will be able to feel all the love, passion and creativity that is in them.