A Dream Come True – Exposures International Fine Art Gallery
My new Family in Sedona, AZ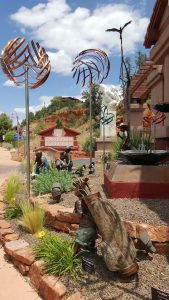 It is truly a dream to be among such prestigious artists, my idol from a young age; JD Challenger, Bill Wardell, Rebecca Tobey…. the list goes on. These are the artist I looked up to as a child, saw in magazines, admired there styles and masterpieces for some time.
To visit, the 20,000-foot gallery was an experience in its self. You could be there for hours and not see everything. One amazing artist and piece after another. So much to take in, from the fine jewelry in the cases to the sculptural pieces, the whole large sculpture garden out front, the paintings, and everything in between is a spectacular showing, to say the least.
Then to be accepted among all of this, simply amazing, humbling and such a dream.
Marty and all the crew at Exposures are my new family. I felt such love from them all.
In case you are not able to visit Sedona Arizona, here are some of the pictures I took while I was there. Yet, it truly is something to be seen for yourself and well worth the trip.
This slideshow requires JavaScript.