Semi Precious Stones – Simply Amazing Giants
Every year an AMAZING Display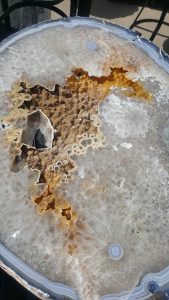 Recently at the Denver Gem and Mineral Show in Denver which is where I go to get alot of my Semi Precious Stones there is a particular booth at The Collisium that has these GIGANTIC specimens of Semi Precious Stones. Every year I am always so excited to see what they are going to have. They always have so many which I am shocked at.
How do they ship these?
How much IS shipping for these?
How many people REALLY buy these?
Do they buy them for a shop or for themselves?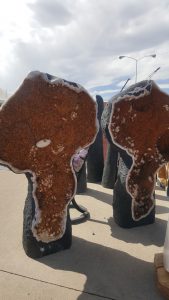 These specimens are just spectacular in person, as the photos just do not do them justice.
They range in price and are in the THOUSANDS. Which is what you expect of course for the grand sizes they are. But that always makes me wonder what THEY as wholesalers paid? How they even got them over to them from all the foreign regions they come from. How many gigantic Semi Precious Stones are really out there in this world? You sure do not see them this size often so they sure do intrigue me.
Most of the Semi Precious Stones are taller than 6 feet in the photos and are larger than you think from the photos.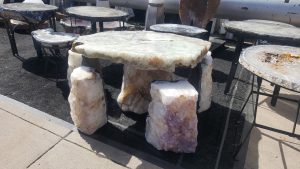 The table set you see in one of the photos is $64,000.
One other thing that I found so interesting about these Semi Precious Stones is that the larger quartz you see was cold to the touch. We were in low 90's and they were in the sun. If you touched the agate tables they were blistering hot. If you touched the white quartz it was as cool as can be. I found that interesting. Maybe if you are an expert or more scientific you can tell me why, as I dont know.
I didn't take the time to bother the booth owner of these gigantic Semi Precious Stones as I can not afford them at this time and didnt want to waste his time. I did one year talk to him and talked him down on a large piece as he was getting desperate at the end of the show and wanted me to just take it off his hands. My gosh at that point I so wanted to say yes, however, I couldn't even imagine what that would have cost me to get it back to California. 🙂
Someday, yes someday I will own one of these Semi Precious Stones giants until then I will continue to marvel over these every year I am there.