Anything but Ordinary
Bland is not a word that is in an artist vocabulary.
Ordinary, same, boring….nope we do not like those words either.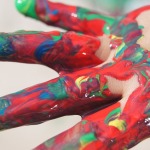 As an artist; and I may speak for other artist out there, but for myself we as artist are full of passion, creativity, life, love, zest, we are bold and love to be free and colorful ( not just as color its self but in life in general).
As artists we just see thing differently. If you're an artist you'll understand what I am saying, if you are not, then please understand that does not make us better than those non artists, just different. We beat to our own drum if you will and see things in a different way.
Eclectic; now there's a word for artists.
I used to hate that word, eclectic meant to me things that don't match, go together or are just strange or weird. I would picture some old, fat, cat, lady artist knitting some craft crap in her basement or some artist trying to be cute saying they're "eclectic" to justify terrible art.
Yet, now, maybe due to me being a bit older, I don't mind if you call me eclectic, yet call me "Ordinary" and Ill be offended. Ok, well not really offended, cause I am not really like that but…..what…..ordinary is not me or me as an artist.
As artist we step outside of the box, hell we create that box in a new, fresh and bold way. We also can probably create 50 different boxes with all the ideas we have running around in our minds every day.
We seek the new, and seek innovative ways to use not only old mediums but new mediums as well.
I think that is one reason why  I like to use semi precious stones in my paintings. I love the idea of taking su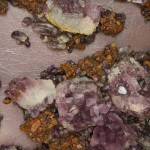 ch old treasures from the earth and use them in new and different ways. I love to push the envelope of art in order to stay out of the bland, boring, same old same old art.
I want you as a viewer of my art to be in awe of my art, not just look at it and pass on by to the next piece hanging up on the gallery wall.
Who wants to do that? Who wants the same old boring thing or worst yet a poster…..ohhh yes, I went there a poster. If you have a poster on your wall then yes, please re-evaluate your walls.
Bringing in a piece of art that is something you love, will create such a uplifting breath of fresh air to your space.
Try it, be boring…….dread……I know, but go with me here.
Take your walls down to boring, lord help us if your walls are "plain white".
Again boring, artist don't do that, we all usually have some form of color to our walls, or we use eggshell, or a color that is tinted and named white linen. But plain white, eeeekkk.
Live in that space for a while with nothing, then put up a  nice piece of art, blow a photo up of a piece you like that you found online, print it out as big as you can and see the difference that it will make.
If you can go to a reportable gallery or contact the artist directly and hang a piece of art you love up on the wall.
Take a step back and see what I mean. Look at how that affects the room, your mood, the whole atmosphere in the room and even among yourself, your energy will change.
And if you are really bold……BE ECLECTIC!
Put multiple pieces of art up together on one wall, choose ones with powerful colors or perspectives. You will find yourself lost or moved somehow by the painting. Us artist and galleries are here to help you get something that will leave you with exciting, proud, happy ……. which should always replace, dull, boring and will take you out of the ordinary zone.
So for all us artist out there; my wish for you is to continue to be bold, strive to be eclectic, never settle for anything boring or dull. Step out of the box, your own box and push yourself as an artist, experiment, try new mediums or techniques.  I think you will be glad you did, I know I am.
As for you non artists, we love you and hope that you will look around and if needed, let us help you create a life that is full of beautiful art that enhances your homes and life.  In order for you to express yourself and be bold.