Moving Semi Precious Stone Art
What It Looked Like Behind the Scenes!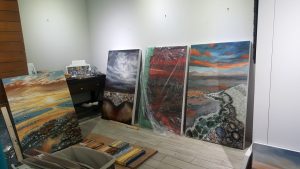 I know most of you see the pictures of the solo show I took part in at Adelman Fine Art in downtown Little Italy in San Diego, CA. You see the final product, the polished work on the wall nicely lite and ready to show in its full grandeur. All the Semi Precious Stones lite and highlighted to show their full splendor.
Yet, what you do not get to see is what it took to get them there. Sence I use Semi Precious Stones on my paintings:  my heaviest painting is 105 lbs. I had 3 that were
Heaviest painting is 105 lbs.
I had 3 that were 4 foot x 6 foot that weighted probably 80lbs
Had 90 pieces in that show.
Had 2 8 foot paintings
Most of my larger statement pieces do require 2 people to move them.
I had to hire movers to move ALL my work to my studio in Oceanside to downtown.
Tons of bubble wrap which is my new best friend. Hours of packing and moving. Then after the show, we did it all over again.
Overall it was worth it for sure.
Yet, I joke and wish I dealt in feathers and used those instead of Semi Precious Stones. 😉
This slideshow requires JavaScript.