Where I got My Talent As an Artist
Channeling my ancestors in my Art
I get asked all the time as an artist; What is your background as an artist?
Great question but for me, there is a lot to that in order to answer, of course, I have my own professional background of what I have done myself, my college degree in art, my time spent under the most amazing artist and mentor who has really propelled me as an artist. My OWN journey and inspiration.
But then there is the other; the deep down underlining history that runs deep within me as an artist; I am 5th generation artist.
My Artistic History:
Great Great Grandma made all material garments from clothing to blankets, tablecloths, etc, in many forms of materials and ways
Great-grandpa did calligraphy, he did it for fun and for the church pamphlets for services
Great-grandma made all her clothes and was quite fashionable, more because she wanted to as a designer, not due to necessity
Grandma was a fine artist who painted primarily in oil, crocheted, knitted and sewed
Mom was a professional artist, fine artist, and every kind of art in this art world you can imagine
So, that makes me 3rd generation fine artist and 2nd Professional Artist
So when people ask me my background, my answer is "It's who I am" it is IN me through and through in many ways. I did my first oil painting at 12, my mom commented on how I was coloring and copying things out of books at a young age. It is just WHO IAM. It is just me, it comes naturally to me. However, do not ask me to spell anything.  🙂
Here are some examples that I found recently of my great grandpas and my grandma's art.
FUN FAMILY FACTS: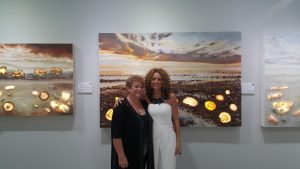 My mom is a professional jewelry artist for YEARS now (10 or so?) is the one who first encouraged me to use the semi precious stones into my work. So SHE is the reasoning behind my ELEMENTS Series for the semi precious stones.
She is the underlining foundation of me being an artist, always encouraging me, helping me with all my shows and endeavors. She always has and is my biggest strength behind my work. Which I will always be grateful for.
My grandma passed in May of this year and handed down a ton of her canvases, brushes, and paints to me. I am so grateful to her for assisting me in that way as an artist. However, her and my grandpa when here with us were my first paid collectors. They as biased as may be they would buy my work when no one else was. I will be forever grateful and those moments will be treasured forever.
I have always been extremely supported by my grandparents and my mom as an artist (brother as well) so it is a family affair for us.