Art and Creativity as a part of life;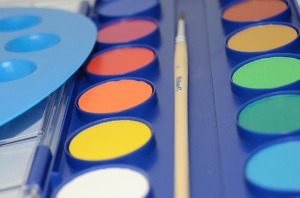 Art has ALWAYS been a part of my life.
I have so many fond memories creating through out my childhood years growing up. As a kid my mom and I would always be doing something creative and artistic, she was always teaching me something.
I would say my mom has been the most influential artistic person in my life. 
We would have parties with birthday and have friends over to create something. What ever the trend was at the time we would create it; bandanas with the beads in the 80's, clay beads with Femo came out in the 90's, pony beads with key chains, and my favorite puff paint on sweatshirts, that was huge, oh my gosh we must have done hundreds of them. We used glitter, rhinestones and so many things to make sweatshirts flashy. I loved it. Everyone wanted one of those shirts at the time. They were a real hit.
As an artist she also would be doing something artist and different, she to this day will surprise me as what she comes up with, such talent.
Memories I will Never Forget
Growing up she also would always do open houses with her work, where the living room and dining room would become her gallery where her work would be displayed for people to come and buy. She did the local arts and crafts shows, where I would help her create, set up and sell at the shows. My gosh she has done a million of them with a million different things. I love it and learned a lot from her and her sharing her creativity with me.
She also owned her own rubber stamp company for a while and was really successful as a business until it was time to move on from that trend in the art market. She now has a jewelry business where she is creating jewelry.
The first attempt at painting
My mom helped me paint my first oil painting at the age of 12, you guessed it Bob Ross style, I also have painted happy trees. I loved it.
She taught me a lot and in a lot of different mediums. Yet she was always more talented and did better with the 3 dimensional art and crafts than me. I had fun as a kid but I was always more drawn to the fine art, colored pencil and pen and ink as a kid and then painting as I got older. She was always better at the crafts than I was and did more with it than I have.
My mom is "Micheals" her own craft surplus 
Her basement always has looked like you stepped into a Michaels store filled to the brim with art supplies. If you needed something you asked her first instead of going to the store. To this day we joke that she can never move because no one wants to move all her supplies. Her whole house is her studio, each room for a different medium or craft and filled to the brim with supplies and stuff. If there is a place to put craft supplies in her home she has stuff there, laundry room, bathroom closets, you name it she will have things stashed in case she needs it.
Her motto: "You cant get ride of anything, you never know what project will come along where you will need it."
Trust me when I say she has and collects everything. Still to this day she sends me supplies that I may need.
Never Stuck for me as an artist
I never wanted to lean sewing, knitting of any kind or form, both grandma and mom were excellent at it, not me one thing I just didn't "get". They both tried and I just didn't like or or get it, still to this day I can not sew a button on a shirt, not kidding. I am very 2 dimensional, yet as I get older I am trying to break out of that and incorporate more 3D objects into my mixed media work which I am having fun with. Evolving and growing as an artist I hope.
I have tried so many mediums but my seem to have a simple and more narrow focus than what they have, which I find rather interesting how similar we are and how different. All of it is fun but I definitely resonate the most with fine art, especially oils and paining. Once I picked up oils I was in love. Due to my generation of computers I have taken a step out of fine art to learn graphic design, print and commercial art, but my roots are with good old fashion fine art.
Benefits as a Fifth Generation Artist or Third Fine Artist
One plus of having other artist in the family is that they have passed down their art supplies to me. Both mom and grandma stopped doing oil so I got their paints and brushes, sense oil is my primary medium. Grandma would always get me art supplies for holidays. It was great. Things I will always treasure.
We as a family, the three of us still go to Michaels when I am back in Colorado and will see what new supplies we can not live with out or what new color of paint we don't have that needs to be added to my collection. Grandma spoils me with supplies, which is greatly appreciated, fun and she is still so supportive of me and my art.
Unconditional Support from my Family as an Artist
My mom and my grandparents have been and always will be my biggest fans and source of support, which I am eternally grateful.
My mom is the one who has all of my rejects, my work I hated, my experiments, my work that just plain sucks, instead of ending up in the trash it ended up on her walls. She has the crappy work hanging in her home like treasures. I will to this day go back to her house and wonder why she kept something so bad. It is fun to see my progression as an artist though, but my gosh some of it is so bad.