Denver Gem and Mineral Show 2017 – Semi Precious Stones
My new finds and what I saw: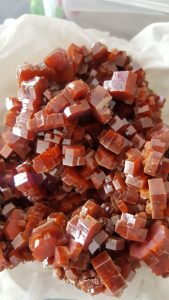 Being from Colorado this Denver show has always been what got me started collecting Semi Precious Stones, this is my roots of where it all started for me.
With my mom designing jewelry as she has for years, she is the one who would take me with her to these shows. I was in awe the first time I went, to see ALL of these stones in one place. It was simply a spectacular site.
That feeling never ends, no matter what venue or how many years go by. The displays of Semi Precious Stones are actually a bit overwhelming. At this show, there is a bit of everything, rough rocks, polished rocks, large specimens to bead for jewelry and everything in between.
Vendors from ALL over the world, representing their countries with their Semi Precious Stones and findings. Most of this is on a mass importing scale, where these vendors do this full time and go from venue to venue selling there Semi Precious Stones. Whereas there is still a lot of vendors who will only do these kinds of large shows and smaller collectors selling what specimens they've found for this year.
The booths range from vendors in parking lots selling things out of their RV; miners tents as they are called, to the booths that are in the hotels indoors under glass cases where the specimens can only be viewed and not touched.
There are vendors of all sizes as well, ones with smaller booths and other that take up massive rooms. Both selling wholesale and retail. The larger ones are mostly wholesale and sell things on such large levels, by the cases and pallets of Semi Precious Stones. That is always the fun part to see, how much people buy. I am always so curious when I see people buy things by the pallet…. what do they do with all those? Most have retail stores that they then turn around and sell in. The hard part is sometimes you don't get to meet them, you see there pallets stacked up with one name on it ready to go out and ship.
The Denver Gem and Mineral Show is the 2nd largest in the world as Tucson is the Largest. Interestingly enough even compared to China and India where so many of the stones are sourced, they remain the largest. A great example of how strong importing is in this industry.
If you are in the industry for Semi Precious Stones THIS is where you come.
I wanted to share with you some of the highlights of the show this year. Each year I find something new, meet a new vendor and get introduced to a new stone that I was not aware of. That is ALL the time. It is fun for me to see the expensive and rare specimens to know what nature has created on such a grand scale. Unfortunately those are ones that I m not able to put in my paintings due to the cost of them, but none the less, amazing to see.
This slideshow requires JavaScript.