Downside of Using the Semi Precious Stones
Choosing a Side to the Semi Precious Stones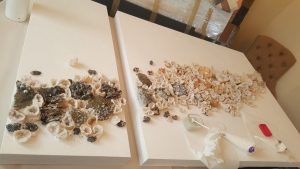 I know what you are thinking; A downside to working with Semi Precious Stones? Ahhhhhh, yep…….
You have to choose as a side to glue them on, and sometimes BOTH sides are amazing.
I run into this sometimes and with a variety of stones. Recently I was using these amazing Quartz with Flourite and Pyrite which I got from my dealer in Morracco on a commission painting that I m working on.
These are rarer specimens of Semi Precious Stones that he had and was lucky enough to get my hands on. They are just amazing.
Most of the time you can pick up a stone and just know what side to glue down of the Semi Precious Stones there is no question.
Then like times like these Semi Precious Stones that with the large amazing complexity of colors, matrix variations and shapes, you have to pick a side to glue down, even when BOTH sides are amazing.
It just kills me sometimes to have to do that. I literally have to hold my breath, squint my eyes, glorify that side of that Semi Precious Stones that I am going to have to cover and just go for it. It is funny, I do that and almost ask forgiveness as if there is a Semi Precious Stones God that will forgive me for having to cover the beauty of that individual stone. Yet, as you know I have to in order to use the Semi Precious Stones I have to do that to work with them.
Yet there are some specimens of Semi Precious Stones that I have that have such beauty and complexity to them that they WILL NOT be glued down. THey are and will stay on my mantle of specimens to show. I know, I know, some you just can not do that to. I may be being a Semi Precious Stones baby about it or some geology nerd but it really is a thing.
So the other day when I was working with the Semi Precious Stones of the quartz that had this amazing pyrite and fluorite on both sides, I picked it up and just whimpered. Oh no, here is one of them. I had such a hard time gluing this down and covering the beauty of that side of the stone.
Here is what I m talking about: