In the Studio – New Semi Precious Stones
Whats New in the studio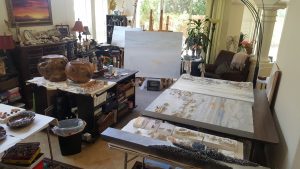 My studio… where do I begin? With all the semi precious stones all over, under tables, in drawers, on tables, in the garage, everywhere you turn you will see stones.
To all the supplies, brushes and paints, there is alot of artistic elements that are apart of this place I call a studio.
I find so interesting that I do not consider myself a collector of any kind, my mom is and always have been, so I grew up collecting things. One day I realized that there was no point to just "having" something if it didn't fill a purpose. So I quit collecting things. Needless to say, I do not take after her with that, soon realizing that we are such opposites to that.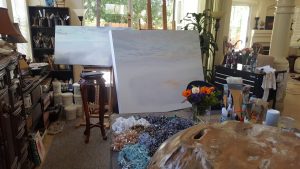 However, when she took me to all the gem and jewelry shows she began to buy me semi precious stones and I was now beginning to collect something…. ugg. She is one to buy things just to have them, not me. Yet I found it to begin to really bother me to just "have" these semi precious stones. She then commented one day that I should add the semi precious stones into my paintings.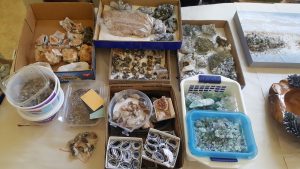 WHAT? Thinking she is crazy, but… yet… wait… this way I would find a purpose for all of my semi precious stones that I have been collecting.
Brilliant!
SO that is what I did one day, got them all out, put the semi precious stones into groups of coordinating colors and loved how they were ALL grouped together and that was the beginning of my "ELEMENTS" series of using the semi precious stones in my paintings.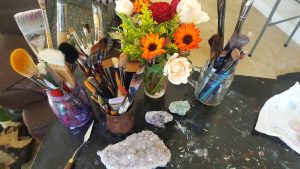 It was a perfect fit. Since then, I have acquired many semi precious stones which you will find ALL over my studio.
Then yes… I do have to admit that I do have a small collection of my own of the very special and rare semi precious stones that I have found which have become very special to me over the years.
So….. yes, I am now collecting something. Yet with me using the majority of them, I think that does calm that issue of the logic of having something for a purpose. Trying to find that balance.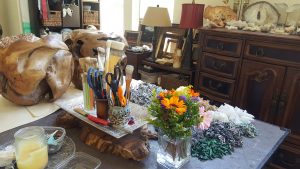 Yet, that is also the fun part about this is when I do find amazing semi precious stones specimens, I am not wanting to hoard them, I want to put them in the paintings for others to see the brilliance of them and not just have them in a box to not be enjoyed.
NEW Semi Precious Stones
I have recently acquired a ton of new semi precious stones quartz points that I use in my abstracts and home decor pieces. They look so cool in piles and I find them so intriguing.