My FIRST Illuminated Painting with Lit Semi Precious Stones – Breath of Drogon
Lighting Semi Precious Stones with LED's
38X60 Oil on Panel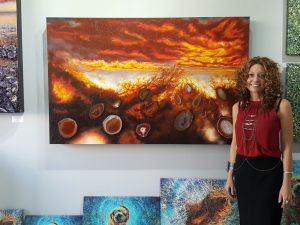 SO… after about 4 years in the making, here it is my first painting where the Semi Precious Stones light up. So many people have commented that I should "Light up my paintings". I didn't disagree, but it left me with the question of how to execute this endeavor due to the fact art is my specialty, not engineering.
I bought little LED's and lights and tried, but it never really worked. Things just didn't come together. I had it in my mind but didn't know the HOW. Yet, as a previous art director, that is what I am good at, concept generation and direction….. not the hands-on how to or execution.
One night at the Laguna Beach art walk at my gallery in Laguna Beach: Lu Martin Galleries came strolling in Mark Johnson. Who just happens to be an electrical engineer. As we were talking one thing lead to another and I mentioned that i wanted to do that which he said he knew how to execute it.
I then called him and told him how serios I was in making these creations in my mind come onto the canvas lit up and glowing. He and I then researched what was needed and one thing then leads to another and here it is our first painting with LED's that light up.
So much was trial and error, ALOT. Especially for the first painting. What to do, what to use, as you can not just go to any store here to get what we needed. Home Depot was one of the only places to get a few materials, but all LED's and electrical components had to be ordered.
Ok, so it was more like a million trips to Home Depot to get what was needed. A ton of late nights, more trips to Fry's Electronics. More and more research. Plus MORE late nights.
We did it. It lit up. (please note the first one was the hardest). Now we have found better ways and better materials to use now, which is great and I am thankful for. But the first one was a little rough.
Main Reason Behind my ILLUMINATED Semi Precious Stones Series:
To enhance the Semi Precious Stones in all there glory.
To further enhance the intricate matrix that is in each stone so uniquely
When the light comes through the stones you see their true complexity of the detail of the stones
Bringing out natures beauty that was created in such grand ways that when you can miss especially on the agate slices which I use are not lite up. Once you add light it just brings them to life
Concept of this Illuminated Semi Precious Stones Painting;
2 major concepts were behind this painting:
1: my brother who is a Firefighter in Colorado
2. the orange agates that reminded me of flames for fire
I acquired these agate slices semi precious stones from collecting them for years. Getting them in all sizes and colors through out the year. Some of my vendors would have grey ones, and others oranges, so I got them here and there and in all varieties. I didn't get them all at one time. That is a bit of the down side of me getting stones in this way, but on the other hand that is also the fun and challenge of getting the stones in that way. That way once you find something you are wanting or have been looking for awhile it is a huge find and get them and then wait until I have enough for a whole painting.
Ive always loved the oranges and reds in the semi precious stone agates Ive found and collected. They reminded me of fire and I wanted to do a painting like that.
MY BROTHER the FIREFIGHTER: 
My brother and I were talking on the phone one day and he mentioned how cool it would be to have a painting with fire, that looked like a volcano that was erupting with darker colors, reds, and oranges. With him being a firefighter for the past 13 years, he just loved that theme as you can guess why.
I had this idea of using the semi precious stone agates in the reds and oranges for some time, and collected them for a while, waiting for the right time and painting. I also wanted to light them up. I thought perfect. His inthusasum was so high I just knew I wanted to do this painting for him. It was the first one of the series and HE had to be the first one to have one.
He and I are also Game of Thrones fans, so of course, I had to name it after that. The name "Breath of Drogon" is the red dragon Danaris rides in the show, so it was so appropriate to name it that.
I am extreamly happy on how it tunred out, I know he will be to when he gets it in his home.
Here is the painting from start to finish:
This slideshow requires JavaScript.