My Main Sources and Locations of Semi Precious Stones
I get asked all the time from collectors that come to my galleries where I source the semi precious stones that I use for my fine art paintings for my ELEMENTS Series.
The answer is all around the world.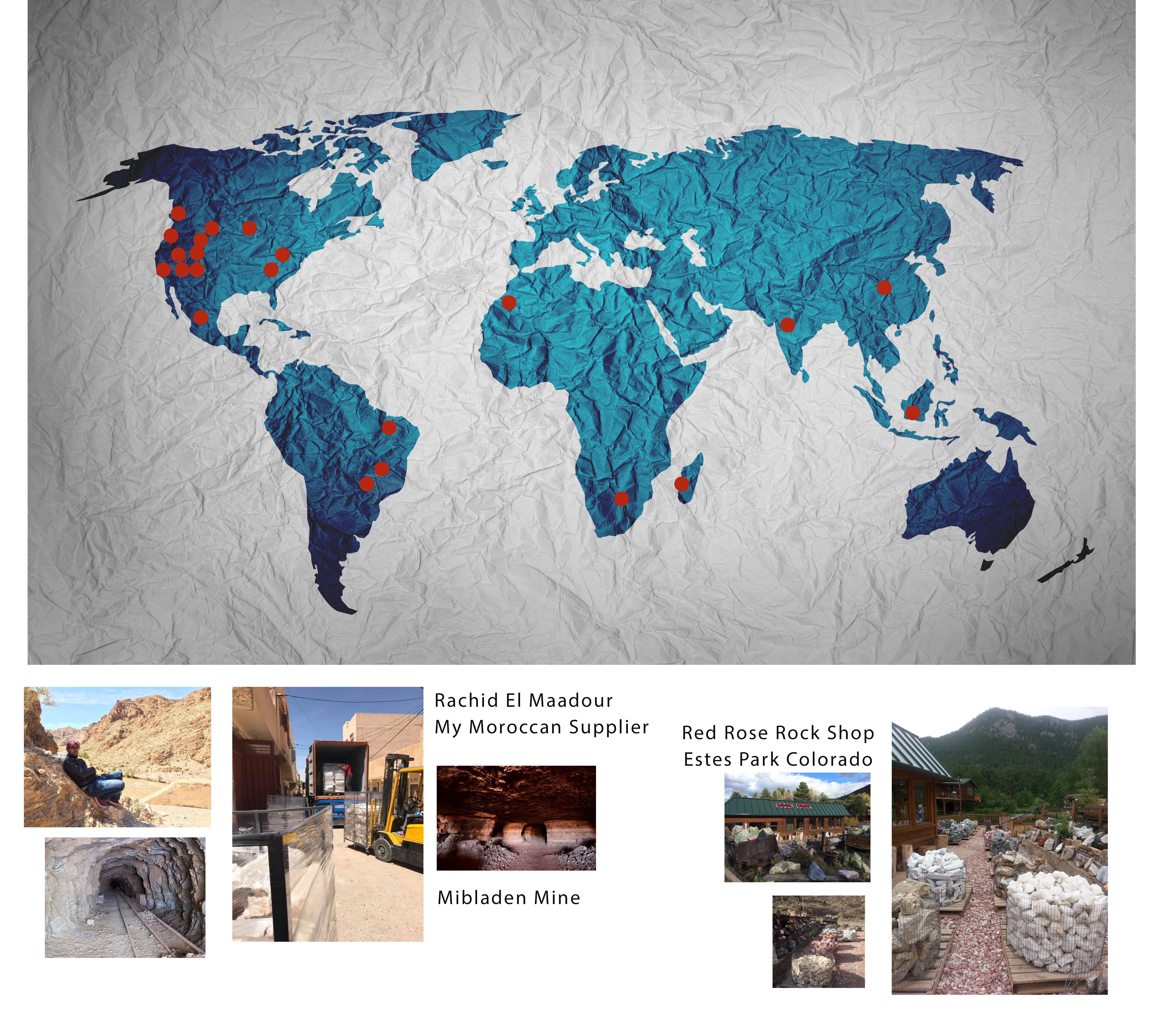 I have been very fortunate to meet so many amazing collectors of fine gems and minerals, geologists, lapidary specialist, prospectors and miners that deal in a multitude of gems and minerals I use for my semi precious stones paintings.
What I do:
I (well my mom and I, she is my partner in crime with all of this) go to the large gem and mineral shows to purchase our semi precious stones. Being from Colorado we have always gone to the Denver show which is the second largest in the world. Then we went to the Tucson show in Arizona for the first time this last year, that is the largest in the world. For good reason it was gigantic we were there a week and still didn't see all the locations, there were 44 (est.) different locations.
So most of my vendors do those shows. They collect the semi precious stones, and bring them to the shows to me. I get things wholesale from them.
One of my larger suppliers is from Utah. He has a shop in Utah and does all the smaller shows in the SW area of the US. He does his own collecting of the semi precious stones and passes them on to me, small business and smaller supplier but has had a lot for me to choose from and offer me such different things that is really exciting for me. He collects the semi precious stones from Utah to Canada, all over the place. He is what you'd call a "Rock Hound" collecting semi precious stones and then selling them on a smaller scale.
Where as my supplier from Morocco, Rachid owns his own mine and then only deals with the specimines from that region. I get a lot of semi precious stones from him. Limited in what he has but have also been able to get some rare stones that have been fun to work with. He then will call me and see what I need and fill a large container full of semi precious stones and ship it over from Morocco and meet me at the shows.
This way it is more time efficient for me than to travel to these locations and get them myself. Someday I'd love to, but for me as an artist, I'd rather be in the studio painting and creating than seeking these semi precious stones out. That is what they do best, and then pass that on to me.
They are such fun people to work with and I don't think they still really comprehend what I do with them. Most people do not buy in bulk like I do, if so then they have a retail store they then sell them in, not me. It is funny to see there reactions in why I want some of the things I do and why I pass up what I do.