New Scenery as an Artist; Estes Park Colorado
Being in the Mountains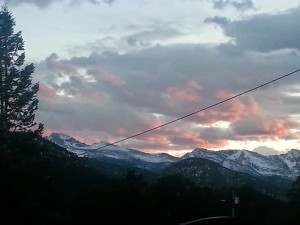 As an artist I am inspired by many things. I can literally think of more than 10 things I want to paint all at once (if I could, heck find me a large enough studio and I'd try). I am always full of ideas and images that I have seen that I want to paint.
My biggest inspiration is NATURE.
Landscapes in particular, for me it is a combination of the mountains and the sea.
Growing up in Colorado my grandparents have owned a cabin in Estes Park Colorado. For those of you not familiar with where that is, it is in the Rocky Mountains an hour east of Greeley, where I am from. Southwest of Fort Collins, and east of Loveland, or is about an hour north west of Denver by an hour.
For another reference, it is there they shot The Shinning with Jack Nicolas at The Stanley Hotel, white hotel with a red roof.
All my life I have come here and have always loved coming here. I have such fond memories here.
There is a different feeling in the air here. No, seriously. I feel it, have always felt it, my grandparents who then went to a small cabin here to a larger retirement home decided to retire here full time in 1996. They felt it too, as does my mom. There is something almost magnetic here for my family and for me.
The feeling is a hard one to explain; but for you I will try. It is just so calming and peaceful. Once you turn the last windy corner of the canyon on 34 with the rock shaped as a turtle you know you have arrived.
PS. There is a tree that has now decided to grow to block the view of the turtle. Damn that tree, yet I like most do not have the heart to cut it in order to see the turtle rock, but if you have been coming here for years you'll know what I mean. It is significant little Estes Park icon. I say that so if you are coming and do not see the turtle rock that it will not lead to disappointment for you and the kids. J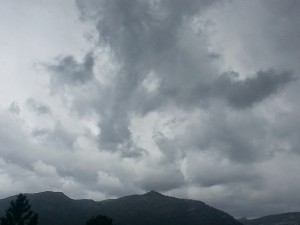 It is almost like you exhale and your breath releases along with all your stress. A smile always comes across my face and my whole body just seems to relax.
The air is crisp, cleaner and clearer at all times of the year. You can really smell it, sounds weird I know but it is true, it smells differently here. It is such a comforting feeling, as if you're so comfortable you feel at home (even though you do not live here full time).
You hear the sound of the pine trees with the wind blowing through them, where is it so calming and comforting.
You see the Thompson Canyon River with all is fury these past years still remains so beautiful, where the river runs through out the town in and out.
The views are spectacular, with the mountains caped with snow most the time. The large pine trees all around, they are so large and vast in all directions in most places, you will have a view almost everywhere you are outdoors of the beauty of nature.
The aspen trees are so vibrant in the spring when life comes to them with hues of green, then bright yellows, oranges and reds in the fall. Even winter is pretty with everything covered in white. (I hate the snow and cold, but if it is your thing it can be pretty, I do admit).
At the cabin, I love the view of the mountains from the window, where you can sit and watch the clouds move in across the mountain peaks, to the amazing sunsets from the balcony that I take a million pictures of so I can recreate them in a painting.
Another thing no matter out of the 37 years coming here I still get so excited to see elk and dear in town and in our yard.
For the first time sense 1997, we got to see a bear; TWO actually. This was the second one we saw.
They come in all the time, all year. We even have a badger that creates havoc in the yard, but still interesting to watch. I have even feed a dear from my hand. (I know you are not suppose to but we did). They are just so used to people, they don't blink an eye.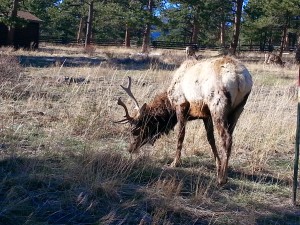 Moose are another story, they are more in the Rocky Mountain National Park, further up or west than where we are, they are mean and will charge you, I know this first hand. It a story in its self. SO….
FYI: do not mess with large wild animals, they are bigger on foot than they look in the car or in pictures or on tv…..(that is a side note for your tourists.) Silly me has learned this the hard way.
So as an artist loving nature and love to paint landscapes, Estes Park is such an inspiring place to be. I feel so relaxed here in order to allow my creativity to come out to create my next landscape master piece.