Opening Reception Solo Show Evening at Adelman Fine Art Gallery – Semi Precious Stones Spectacular
90 Works on Display with Semi Precious Stones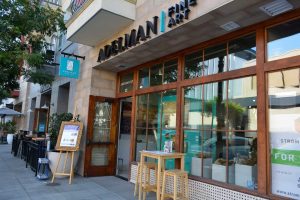 Exhibition Haning Septemeber 1-17th 2017
Opening Reception Evening September 9th 2017
There is truly something for everyone:
Prices start at $150
Sizes from 4″x4″ to 8 feet to accommodate all spaces of your home
ALL Originals
All colors of semi precious stones and paintings for all tastes and decors
Huge variety of semi precious stones in Fine Art; including unique Florescent stones and Genuine Meteorite
New "Illuminated Series" where the stones light up on the paintings
Many unique pieces of her New "Home Décor" Series with Elements from the earth
A special showing of Tesa's private semi precious stone collection
2 Original Paintings created specifically for this exhibition from Award-winning Top Northern Colorado artist Clifford Bailey, Tesa's mentor
Create a Custom Commission with Tesa to accommodate your home and décor
The evening began with people lined up out front, waiting to see all of the glim and glitz of all the semi precious stones paintings hung among the 1000 square foot gallery at Adelman Fine Art Gallery in Little Italy in downtown San Diego.
Over 90 pieces of semi precious stones paintings and home decor pieces filled the gallery. 52 new pieces that no one had ever seen before. PLUS 2 Original paintings from Clifford Baliey and semi precious stones jewelry from Kathy Kaberline of KK Originals.
The whole night was packed, filled with collectors, people off the street that happened to walk by, friends, fellow artists and art enthusiasts. People were buying paintings left and right, trying on jewelry and grabbing onto their purchases with enthusiasm.
It was so fun to see, people loving what they saw, in awe of some of the pieces, feeling the energy of the semi precious stones paintings that hung before them.
"IVE NEVER SEEN ANYTHING LIKE IT"
Was still the common comment I received all evening. New to my work or have previously have been introduced to it before, I still heard that. It is still surprising and humbling to hear people say that.
I was so thankful to how the evening went, I want to THANK EVERYONE who attended that evening to celebrate semi precious stones being incorporated into Fine Art.
This slideshow requires JavaScript.