Underneath; In the making
Behind the Scenes
Oil on Panel
36X60
Mixed Media
Semi-Precious Stones
2.5 Museum Panel
Coral: Provides protection. Calms emotions. Helps with asthma and digestive problems. Guards against violence, accidents and theft. Associated with the element of water. Brings peace within the self. Facilitates intuition, imagination and visualization. Sign of Pisces.
Used for this painting: Red Coral; In the upper right is natural red coral while the rest of the coral is enhanced or died coral. The gold stick like pieces on the left of the painting are coral as well.
Pearl: Promotes sincerity, truth, loyalty, charity. Enhances integrity. Soothes, calms. Helps with purity, honestly, feminine wisdom. Spiritual Transformation. Good for helping you focus while meditating.. Allows us to see the way we appear to others. Sign of Cancer & Gemini.
Used for this painting: The bottom gold pieces are fresh water pearls.
Shell: The pieces that are black and grey tones at the bottom right are shell that have been cut and polished.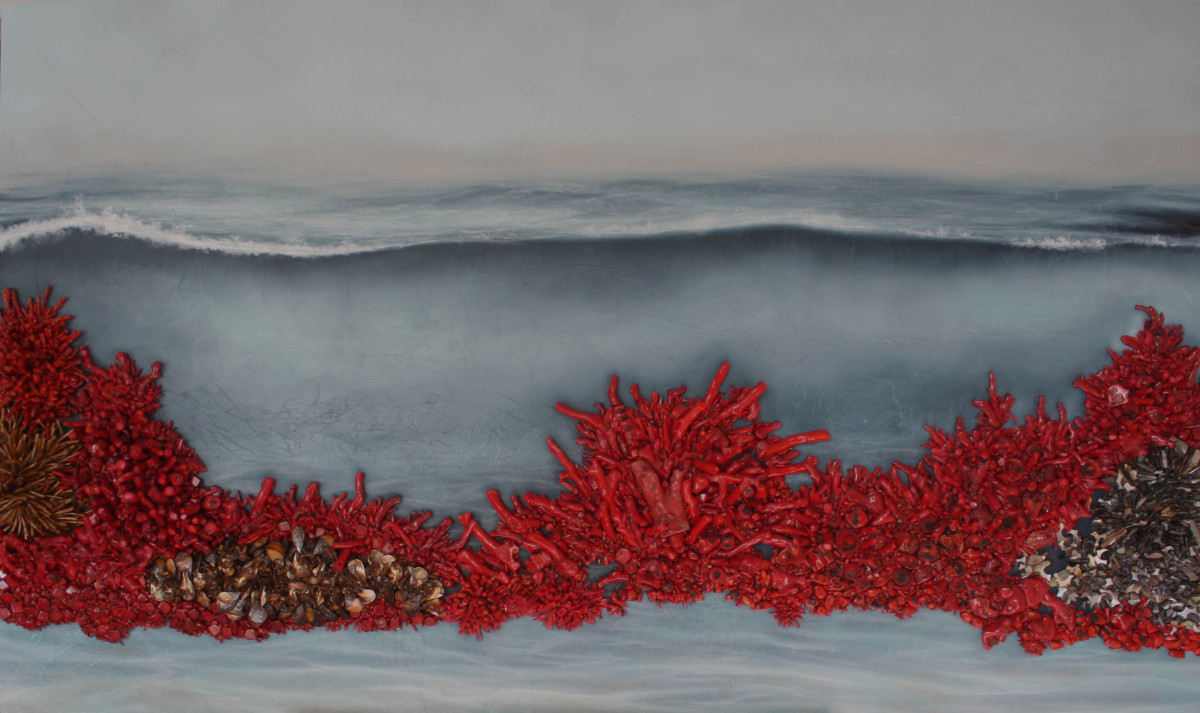 From the Artist:
This painting is such a large, breathtaking painting in person. This to date is the most semi precious stones that I have used in one painting so far…(stay tuned) but the amount of Red Coral, fresh water pearls, and shell that was used was at least 40 16 inch strands of beads plus other loose stones I had.
This painting weighs a good 42 lbs by the time I got it completed due to the amount of stones used.
It took me days just to add the stones on the panel, I had so much fun, was alot of work and I truly think it payed off in the end.
I have been collecting this amount of semi precious stones and especially the coral for over a year. Getting the largest pieces of coral for this painting I could find.
I was inspired by many things;
1. The beautiful Red Coral; I have always been so intrigued by it, the bold, deep red color and the variety of unique shapes and sticks of the individual coral pieces. Let alone having so much of it and how amazing it looked put together in one large grouping made it so bold and grand to me.
2. Being in San Diego and my love for the sea and being so intrigued with "what lies beneath" which is so different than what we see by just looking out over the ocean from the shore. I wanted to do a painting that showcased the stones which are what is found underneath the in the ocean.
3. The deep colors of the Pacific Ocean; The actual colors of the Red Coral and wanting to complement that bold, deep red with the deep blue of the pacific here in San Diego that we have. I love the deep, rich colors that we see here and wanted to do a piece that was indicative to the pacific ocean.