News and Press featuring Tesa Michaels:
SEASON'S LURE | Hanging September 23 ~ November 26, 2017
An exhibition featuring multiple pieces of my artwork that embodies all that lures you into the fall season.
Join us for refreshments and appetizers at the Opening Artist Reception: Saturday, October 7th, 2017 7:00 pm – 9:00 pm.
RSVP REQUIRED – Register HERE, Call 619.354.5969, or Email info@AdelmanFineArt.com
PLEASE NOTE: All exhibition artwork should remain in the gallery until the Artist Reception on October 7th.
We would love to know which is your favorite piece of artwork. Let us know on our Facebook page! #ArtYouEnjoy
Uncloseted Professor Nitara Osborn Interview
Tesa Michaels Solo Show | September 1-17, 2017
TESA MICHAELS SOLO SHOW | HANGING SEPTEMBER 1 ~ 17, 2017
The Gallery is pleased to present a solo show featuring semi-precious stone artist Tesa Michaels!
MEET TESA at the Opening Artist Reception:
Saturday, September 9th, 2017, 7:00 pm – 9:00 pm
Complimentary refreshments, small bites, and good tunes!
RSVP REQUIRED FOR RECEPTION ONLY: Register HERE,  Call 619.354.5969 or Email info@AdelmanFineArt.com
ArtWalk NTC @ Liberty Station 2017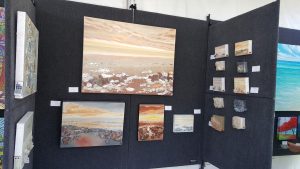 August 12 – 13th, 2017 – Booths 135/137
Please join us for ARTWALK at Liberty Station, August 12 & 13, 2017, at booth #135/137 – Just off Cushing Street at Ingram Plaza.
LOCATION: 2571 Dewey Rd. INGRAM PLAZA at the Arts District at Liberty Station.
SATURDAY HOURS: 10 am to 6 pm
SUNDAY HOURS: 10 am to 5 pm
April 29th – 30, 2017
Meet Tesa At 12-3 Saturday and Sunday!
BOOTH 715/717 – On Fir between India and Kettner – Adjacent to Monello and Bencotto Restaurants – just steps away from Adelman Fine Art Gallery storefront! The Gallery is also open during ArtWalk.
Mission Federal ArtWalk will fill 17 blocks in San Diego's Little Italy neighborhood.  Thousands of attendees come to view and purchase artwork, enjoy the music and dance and participate in interactive art experiences.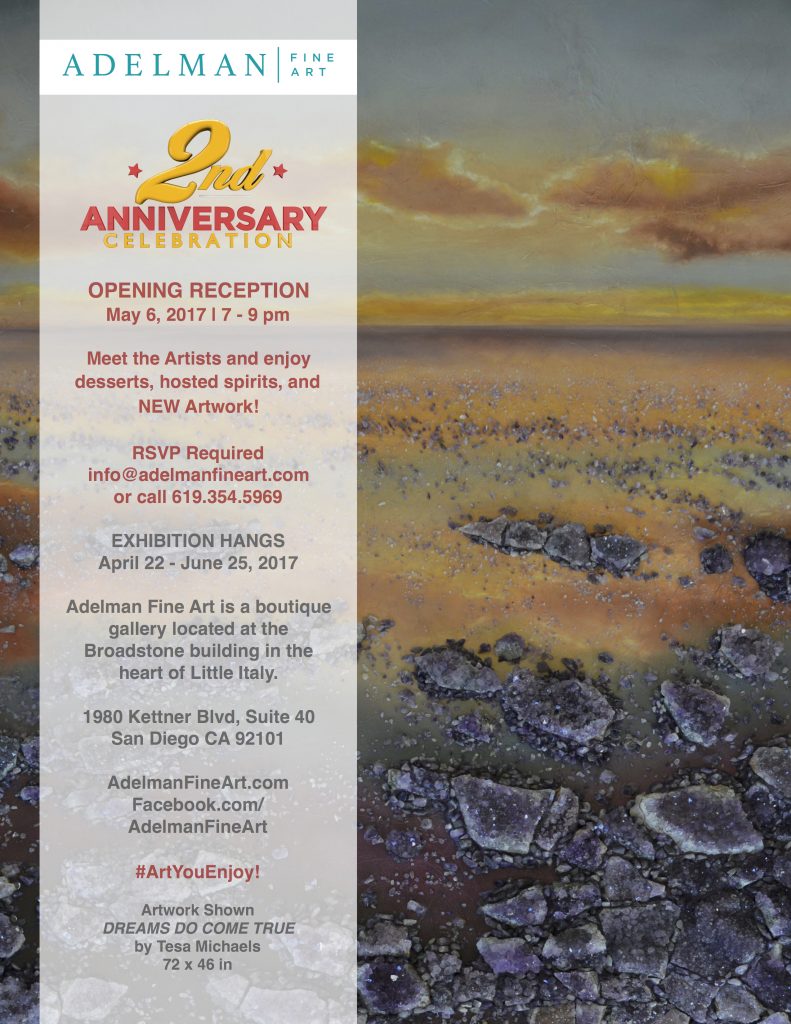 2ND ANNIVERSARY SHOW
ADELMAN FINE ART 2ND ANNIVERSARY SHOW | HANGING APRIL 22 ~ JUNE 25, 2017
ARTIST RECEPTION SATURDAY MAY 6TH | 7 – 9 PM PST
RSVP REQUIRED | 21 AND UP
REGISTER HERE!
Adelman Fine Art is celebrating the 2nd anniversary of the Gallery's opening.
Come see Tesa Michaels LARGEST Painting EVER 46×72 with ALL Amethyst and her FIRST "ILLUMINATED" Painting where she has glowing Agate.

"LANDSCAPE & BLOOM" EXHIBITION
 EXHIBITION NOW HANGING THROUGH MARCH 26TH, 2017.
Come see new work by Tesa Michaels and her paintings with Semi Precious Stones.
WINTER SHOW
 EXHIBITION HANGING DECEMBER 3RD, 2016 THROUGH JANUARY 29, 2017.
Complimentary refreshments, small bites, tunes, and brand NEW art! Please join us as we celebrate this beautiful winter collection!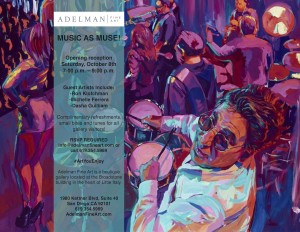 October 8th, Saturday 7-9 pm 
PLEASE REGISTER HERE.
Opening Reception Saturday October 8th from 7:00-9:00 pm. The event includes hors d'oeuvres, hosted wine, & brand NEW ARTWORK! Enjoy a custom playlist containing artist selected songs for each artwork. Browse the exhibition online.
RSVP REQUIRED – 21 & up.
2016 Annual Juried Exhibition
Front Porch Gallery
2903 Carlsbad Blvd., Carlsbad, CA 92008    (760) 795-6120
Opening Reception – July 17 (noon-2pm)
Exhibit closes – September 17
Tesa will have one piece of her "ELEMENTS" Series there on exhibit
Every First Thursday – 6-9pm
Meet our newest artist Tesa Michaels and see something "YOU HAVE NEVER SEEN BEFORE".
Lu Martin Galleries is a fine art gallery located in Laguna Beach, California. We feature original paintings (oil, acrylic and mixed media) by various  local, regional, and international artists. Artists and artwork are selected  for their quality, craftsmanship,  originality, and aesthetic appeal. We offer a balanced mix of contemporary and traditional styles, making your visit here rewarding regardless of your stylistic preference.