Description
Acrylic on Panel
48X48
Mixed Media
2.5 Museum Wrap Panel
Semi-Precious Stones
ORIGINAL – this is the original, there are no reproductions done or going to be done of this piece
Accompanied by a letter of authenticity
Ready to hang, no frame required
Contact Adelman Fine Art Gallery
https://www.adelmanfineart.com/

Elements Series; incorporating semi-precious stone and unique pieces of the earth in a creative way.
This painting is part of my mixed media "ELEMENTS" Series where I want to bring in elements on the earth into my art. I love nature, I love finding things that have been created by nature such as semi precious stones and other items from the earth.
I love working with and showcasing the unique beauty that you find in each semi precious stone. I work with mostly Grade A and B semi precious stones; sometimes I use the same stones that are in rough form before they are faceted that you see in a fine piece of jewelry.
Most of the stones I use have been gathered for a year in order to incorporate together into my art. I get them from all around the world from various locations and venders.
Each semi precious stone also has individual properties that generate energetically from the stones. This is by wearing the stone, touching the stones and by having them in a room in your home.
I encourage people to touch the stones on the art to resonate with the properties. I have included some of the properties of the stones in the description so you will be aware of their specific properties; some are healing, energizing, loving, calming, resonate with different chakras, and evoke emotions.
I hope you enjoy them as much as I love creating them.
From the Artist:
This painting was so much fun to do. I used Moroccan Geodes for this painting. ALL of the stones on this painting are  Moroccan Geodes. The filler that I used around the stones are just ground up or shavings of the geodes. I collected these geodes for almost a half of a year to make this painting come together. I go some cracked and got some whole and then broke some of them open myself.
It was so fun and amazing to crack them open to reveal such unique beauty. I love how they sparkle and the do especially when the light hits them.
When I had them all laying out they resembled clouds to me. Especially the cumulus big fluffy clouds. So I wanted to do a scene where the geodes were the clouds. I laid the stones out probably 4 times until I liked the shapes that you now see. It was a labor of  love and was so fun to work with these geodes. They are so intriguing to me and beautiful. There were times I would catch myself just staring at them and admiring them.
I wanted to use metallic paint to further enhance the way the Moroccan Geodes shined to bring more depth to the painting. I wanted to keep the color pallet simple and almost monochromatic so the stones stood out and were the star of this painting.
I so love this painting, I love the Moroccan Geodes and I hope you see and feel the splendid grandeur this painting has and feels.
Stones Used: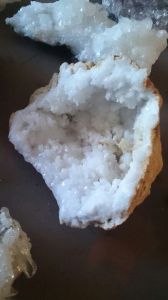 Moroccan Geodes: They are more about reminding one of a feeling or a way than about healing other things. such as meditating, one can hold that knowledge and assist you in remembering to do it, or to exercise, or getting the rest you need, or something as simple as remembering to smile. it is important that you find the one that connects to you and holds a feeling you connect to when choosing to work with geodes.
They can help you to see the whole picture and helps with coming to a decision before things get out of hand. It helps one have the ability to shape one's own future. It bridges communications with the Higher Diety and also helps in communications with people that are in the same healing fields. It can assist one in astral travels. They are also good tools for meditations as well especially the amethyst geodes. These stones can be good for soothing and de-stressing. Aids in spirituality and psychism.
http://healing.about.com/cs/crystaltherapy/p/p_geode.htm