Description
Outer Limits
Acrylic on Panel
16×96
Mixed Media
2.5 inch Museum Wrap Panel
Semi-Precious Stones
Contact:
Exposures International Gallery of Fine Art
Coconino National Forest, 561 AZ-179, Sedona, AZ 86336
(928) 282-1125

Bringing in ELEMENTS of the earth into Fine Art
My "Elements" series is a creative blending of semi-precious stones and unique pieces of the earth with traditional fine art. I love finding and using things that were created by nature such as semi-precious stones and sea shells, using them in unique and creative ways.
"I've never seen anything like it"  Is the biggest comment I get. 
The semi-precious stones I use in my Elements series come from all over the world from various sources. Most of the stones I use have been collected throughout the year in order to work out my compositions and then incorporate them into my paintings.
Each semi-precious stone has individual properties generating energetically from the stone. The energy can be felt by wearing the stone, touching the stone and will fill your room where the art will hang.
I encourage people to touch the stones on the art to resonate with its properties. I include properties of the stones with the descriptions. Some stones are healing, energizing, loving, and calming. Some resonate with different chakras and evoke emotions.
I love working with and showcasing the unique beauty found in each semi-precious stone. I hope you enjoy these unique works as much as I enjoy creating them.
Stones Used:
Titanium Quartz: Wonderful multi-use stone. Enhances energy of all other stones and metals. Harmonious and powerful. Aids communication. Sign of Entire Zodiac.
Pyrite: meaning "a stone which strikes fire". Iron Pyrite makes a wonderful energy shield, blocking out negativity from various sources.
Campo del Cielo Meteorite from Argentina:
I call this painting "Out of This World" from using the Meteorite which is literally "out of this world" coming from space to earth.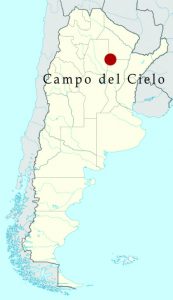 This Meteorite used in this painting is from Camp del Cielo in Argentina. This area is situated on the border between the provinces of Chaco and Santiago del Estero, 620 miles northwest of Buenos Aires, Argentina. The crater field covers an area of 3×18.5 kilometers and contains at least 26 craters, the largest being 115×91 meters.
The craters' age is estimated as 4,000–5,000 years. The craters, containing iron masses, were reported in 1576, but were already well known to the aboriginal inhabitants of the area. The craters and the area around contain numerous fragments of an iron meteorite. The total weight of the pieces so far recovered is about 100 tons, making the meteorite possibly the heaviest one ever recovered on Earth.