Description
Oil on Panel
36X48
Mixed Media
2.5 Museum Wrap Panel
Semi-Precious Stones
ORIGINAL – this is the original, there are no reproductions done or going to be done of this piece
Accompanied by a letter of authenticity
Ready to hang, no frame required

Elements Series; incorporating semi-precious stone and unique pieces of the earth in a creative way.
This painting is part of my mixed media "ELEMENTS" Series where I want to bring in elements on the earth into my art. I love nature, I love finding things that have been created by nature such as semi precious stones and other items from the earth.
I love working with and showcasing the unique beauty that you find in each semi precious stone. I work with mostly Grade A and B semi precious stones; sometimes I use the same stones that are in rough form before they are faceted that you see in a fine piece of jewelry.
Most of the stones I use have been gathered for a year in order to incorporate together into my art. I get them from all around the world from various locations and venders.
Each semi precious stone also has individual properties that generate energetically from the stones. This is by wearing the stone, touching the stones and by having them in a room in your home.
I encourage people to touch the stones on the art to resonate with the properties. I have included some of the properties of the stones in the description so you will be aware of their specific properties; some are healing, energizing, loving, calming, resonate with different chakras, and evoke emotions.
I hope you enjoy them as much as I love creating them.
From the Artist:
This painting was inspired by the richness of this deep sunset I witnessed in La Jolla California on Shell Beach. I loved how the water reflected in such a way where the water glistened with such vibrant rich color that I wanted to capture it with the Amethyst.
I wanted to add the dark brown rock and Amethyst to add more rich colors that matched the colors of the water and sky that really brought them together in such a rich way. I wanted the sky and water to be more of the purple color to complement the amethyst but not compete with one another or scream at you PURPLE. I wanted to keep the richness of all the colors blending together.
I wanted to use the amethyst and rocks to give it  a lot of depth and perspective to really capture the dimension of the stones, which you can see at many angles when you look at this painting.
I used the largest chunks of Amethyst  I had for this piece and I think it stands out beautifully in this painting making the Amethyst come up from the panel (please see picture for perspective).
This painting also changes and deepens in richness depending on the light and time of day, which really makes it more interesting and fun.
My Inspiration: the beautiful large Amethyst chunks
My mom got me these amazing large Brazilian Amethyst at the Denver International Gem and Jewelry Show where she sent me a huge box full of Amethyst.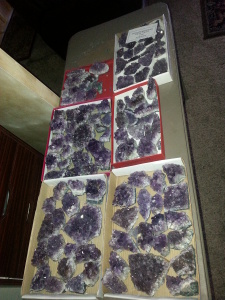 Side Note: that was a fun day to receive that box at my door, it was like Christmas unwrapping all the Amethyst specimens, it seemed like an never ending box. This picture is all the Amethyst that was in the box. That is a 2 X 4 foot table where the Amethyst pretty much filled the table.
Among them were these large chunks that I used for this painting. I was so intrigued with how large, bulky and chunky they were, especially compared to the  other Amethyst pieces in the lot we got. I knew that they would make great large rock formations. So I took all that I got from that lot of  Amethyst and they are on this painting. So stay tuned to the other Amethyst I still have left, those paintings will be to come.
The other stones are also Amethyst but in a more tumbled or rock form and not the rough Amethyst specimens like the large chunks are, but still Amethyst.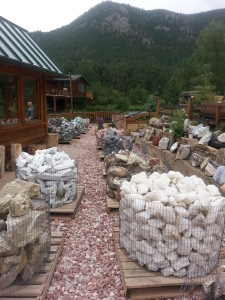 The other brown stone; Pudding Stone I used was a stone from Colorado. I got it at Red Rose Rock Shop (pictured) in Estes Park, Colorado for one of my favorite dealers.
I got it as a huge chunk about the size of a bowling ball and broke it down in a fancy new age form of; … beating the hell out of it with a hammer. I then took the chunks, pieces and powder from the rock and separated it so I had all the different sizes to then put onto the painting. I then took the smaller and power for the top and large chunks at the bottom to create depth and perspective.
I loved the different rich colors that were among the chunks of the rock as a whole, so if you look further away it looked brown, but then when you look close it had a multitude of different rich colors; browns, coppers, oranges, that made up the rock itself. I loved it and thought it complemented the Amethyst beautifully.
What was really interesting about this rock was it was a bit dull and dirty looking until I varnished the painting, I added the varnish to the rock and it brought such richness out of the rock where it brought out the natural beauty of the stones.
Stones Used: 
Amethyst: Treats insomnia, relives tension, helps overcome grief and loss, brings about spiritual awareness, constricting thinking and acting, good for skin, alleviates pain, lowers blood pressure, releases imbalances. Connects with spirituality and provides contentment. Clears the aura and relieves dysfunctional energy located within the body. Useful during meditation to promote and maintain a calm and peaceful state. Encourages sobriety, promotes sleep and combats headaches. Good for third eye chakra. Sign of Pisces, Virgo, Aquarius & Capricorn.
Pudding Stone: from South Dakota.
The stone was named by English settlers in this area, about 1840, because it looked like their boiled suet pudding with cherries and currants (Christmas Pudding).
Puddingstone, or Pudding stone, is a conglomerate rock made up of a mixture of different, irregular sized grains and pebbles held together by a finer matrix, usually formed from quartz sand called quartzite . The pudding stone pebbles vary in color from red to brown and pink to purple. Pudding stones are considered metamorphic and sedimentary. The sedimentary rock is formed in river channels and may contain various minerals such as chromite, corundum, platinum, diamond, gold, sapphire, and zircon.
The history of this rock starts in the Huronian period of the Proterozoic era, approximately one billion years ago.
Pudding stone prevents tissue deterioration of internal organs and muscles, strengthens immune system and promotes body balance, smoothens any pain or disorder.